Eating Out In Cheadle, Cheshire
If you're a therapist coming to a course or a couple taking part in our "Getting The Love You Want" Couples weekend workshop at The Affinity Centre, then the likelihood is you are going to want to find somewhere nice to eat lunch or dinner.
In this post I've listed the best places I know that offer tasty food in Cheadle.  I have personally sacrificed myself and eaten at every one of these establishments.  I have eaten their puddings and drunk their beer. I have chomped through their burgers and munched away at their mains– see how I suffer for you!
Cheadle has some really great places to eat and for such a small place it has some amazing food.  There are also lots of pubs here.  I mean lots!  I count 7 within a 200 metre stretch of the High Street.  More on them in this article.
Enough already!  You're hungry, you want to eat!  Here's where to go (click on the titles to be taken to the website of the Restaurant in question).
Bellinis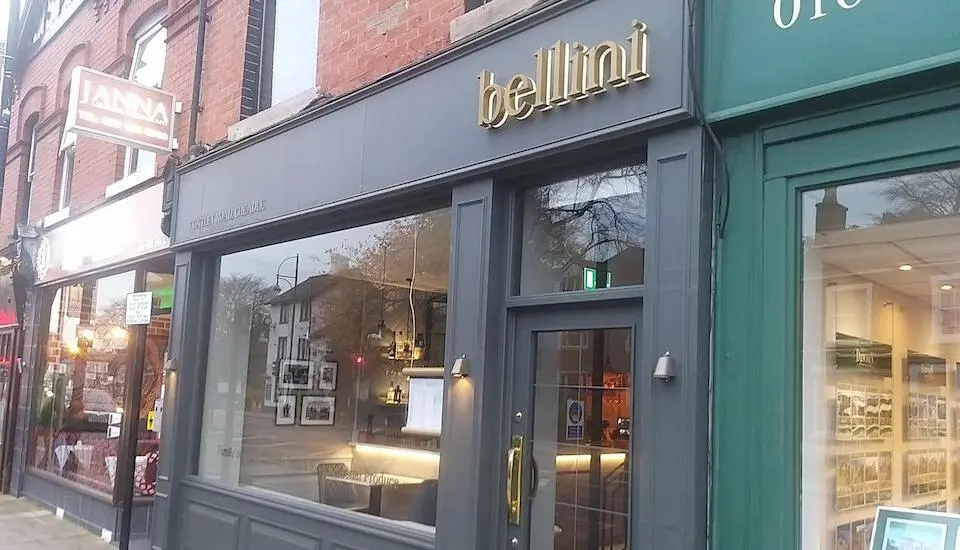 7 Gatley Road, Cheadle, Cheshire. SK8 1LY
Bellinis is one of my favourite restaurants in Manchester.  No, it's not, it's my favourite restaurant anywhere!
It's a family owned Italian restaurant in Cheadle with amazing food and great wines at sensible prices.  The staff are, let's say, quirky, depending on who you get serving you, and the chefs, who you will see in the open kitchen at the back, are also friendly and bloody good at what they do.
Whether you fancy a simple pizza or want to tuck into a three course extravaganza, this is a lovely place to go.
Bellinis is well known in Cheadle and has a very loyal local following.  As a result of this you will be faced with family groups if you go around 7pm – 8pm.  Towards the end of the week and at the weekend you will need to book in advance.
The place gets a lot quieter beyond 8.30pm, so if you have a Mediterranean approach to eating and like to eat later it is easier just to show up and get a table.
Another thing about Bellini's is that they are not particularly quick at feeding you.  If you're in a rush, then go somewhere else.  Joanna and I like to get a lovely bottle of Salice Salentino, have a chat and just enjoy being there with the reassurance that they will feed us when they're ready.  Honestly, it's worth the wait.
If you are a vegetarian or vegan there's plenty on the menu you can eat, and they will happily do a pizza without cheese.
Bellini favourites:  They are great at steak, their pizzas are rustic and fantastic and I love the ribs as starters.  I don't think I've ever had a bad meal at Bellini's and I've probably eaten most things on the menu.  Watch out for their specials board too, it offers you something a bit different prepared from fresh local suppliers.
Bellini tips:  If you have a fish-based dish (Spaghetti De Gamberoni – totally delicious) realise that when they offer you parmesan they don't really mean it!  Say no, or they will look at you with incredulity, shocked that you would have cheese on anything fishy. They may even question your sanity out loud!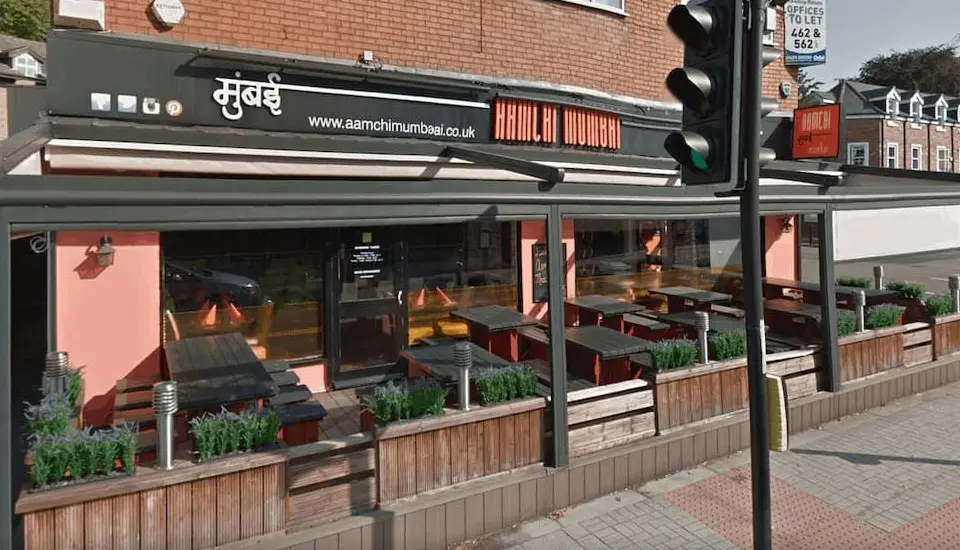 2A Gatley Road, Cheadle, SK8 1PY, Stockport
Looking for an Indian Restaurant in Cheadle?  Go here.  This is almost directly across the road from Bellini's and is the best Indian Restaurant I've ever eaten in.
Aamchi Mumbai serves authentic South Indian street food.  It's cooked fresh and is a million miles away from the fodder you get from your local Indian take away.
The restaurant itself is a nice place to spend time and if the weather is anything other than miserable, you can eat in their conservatory which is a lovely calm space for casual dining.
The staff are very friendly, especially the owners of the establishment who will give you plenty of time to select what you want to eat and help you out if you're unsure of the menu.  You might need a bit of help as it's not just your standard Onion Bhaji and Chicken Tikka Masala fare they're offering up here (though you can have those too if that's what floats your boat).
The pace of your meal is just as you'd expect it to be so you won't be waiting overly long for your food.
With over 30% population of India being vegetarian,there are plenty of options if you don't want to eat meat or if you are vegan (the staff will guide you on this if you are unsure).
Aamchi Mumbai favourites:  Starters – have Masala Dosa, it's a totally tasty and vegan too if that's important. My other favourite is Prawn Koliwada.  Big fat juicy prawns that have been cooked in the tandoor oven.  My mouth is watering …  For mains, they serve the best Lamb Biryani I have ever eaten.  God I love this place!
Aamchi Mumbai tips: In the unlikely event that the Manchester weather is being kind to you, eat in the conservatory.  It's a nice vibe out there and you can chill whilst eating your Lamb Biryani.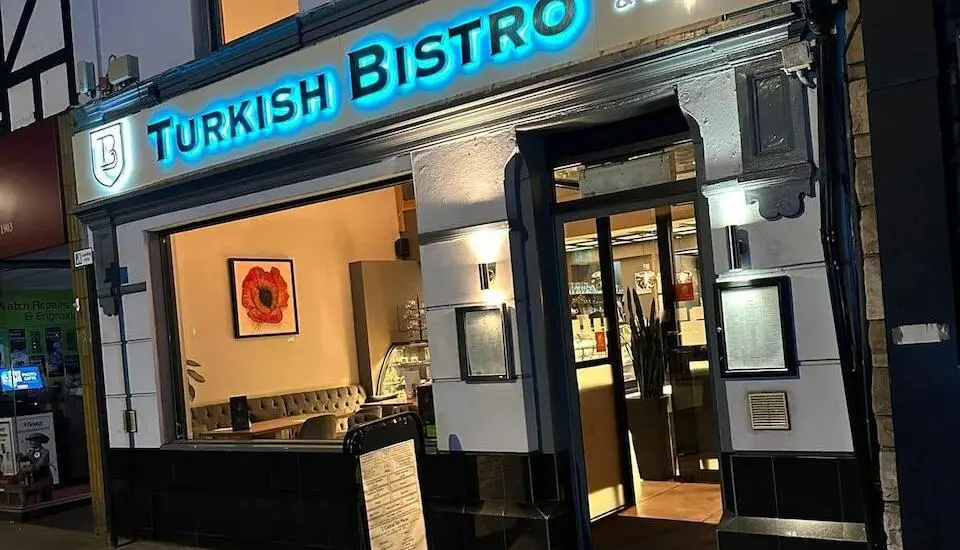 65 High Street, Cheadle. SK8 1BJ
The Turkish Bistro in Cheadle High Street is a lovely place to go for both lunch and dinner.  The food is very fresh and portion sizes just right.
Formally known as Turquoise, it is a good option for lunch.  They do a set lunch menu which is just right and good value for money.
Staff are very friendly and the restaurant has pleasant atmosphere.  Once more it's popular with the locals (always a good sign) so if you want to eat here on a Saturday evening I would book ahead.
Once more there are plenty of options for vegetarians and vegans, just let the waiters know what your needs are and they will sort you out.
The Turkish Bistro favourites: For starters my favourite by far is the cold meze.  Lots of delicious hummus, baba ganoush and other tasty treats served with hot flat bread.  Mains: Try the chicken thighs chargrilled and served with rice, salad and chilli sauce.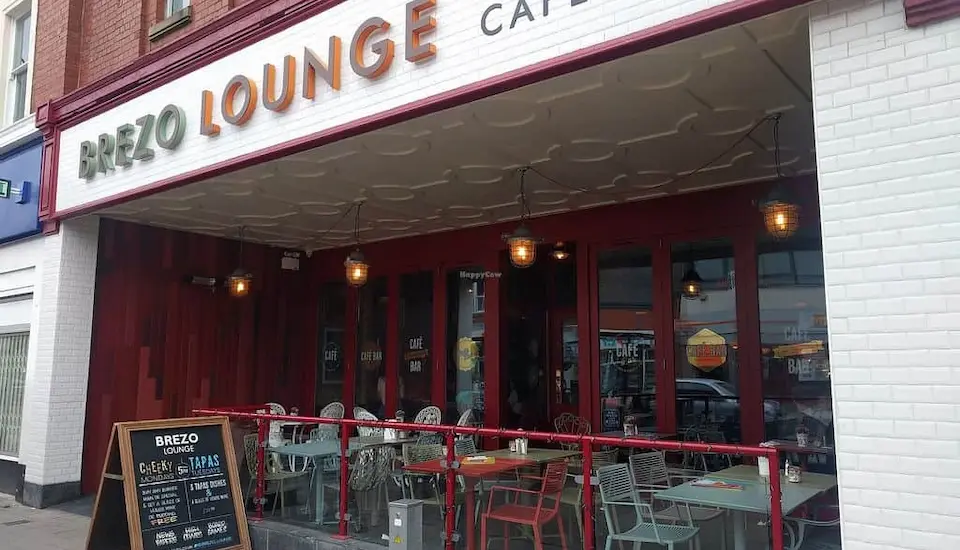 30 High Street, Cheadle, Cheshire, SK8 1AL
Brezo lounge is part of an alternative chain of eateries that offer casual dining (lounging?) in a very informal, random setting.  This is my favourite place to go for a dirty burger or the Diner brunch when I want to pretend I'm American – pancakes and bacon anyone?
It's an 'order your food at the bar and give them your table number' kinda place and an enjoyable space to hang out.
Decorated with random pictures, mirrors everywhere and no two chairs matching in the whole building, it's going for the hipster vibe and pulls it off without feeling naff.
There are separate menus for Vegetarians, Vegans and Gluten free so whatever your dietary requirements, this place will feed you.
Staff are lovely and pretty efficient.
Brezo Lounge favourites: I don't really have starters here so I will nominate the previously mentioned Diner Brunch, a great breakfast that will fill you up until dinner time.  This is also a great place for burgers.  Try the Lounge Bacon Cheeseburger, it's big and dirty just how you want a burger to be!  The fries are the best in Cheadle too.
Brezo Lounge Tips: Whilst the sofas look really comfortable, eating a burger on one is a challenge.  You will spill ketchup all over yourself – or is that just me?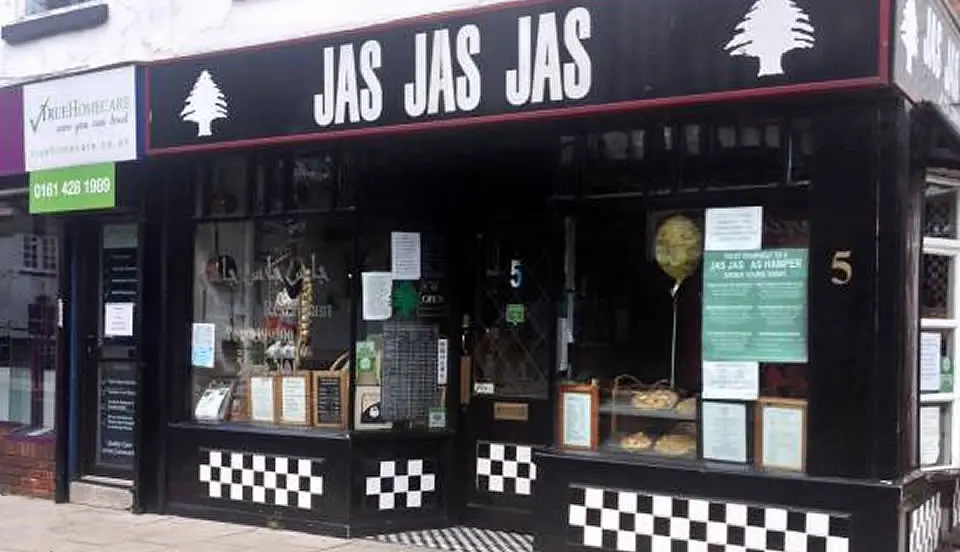 5 Wilmslow Road, Cheadle, Stockport SK7 1RJ
Jas Jas Jas is a Lebanese Restaurant in Cheadle  – or is it more of a cafe?  It does a booming trade at lunch times for take away at the front of the shop and has some rather quaint tables in the back for diners who want to stay in.
It shuts in the afternoon so you can only have lunch here and it is well worth a visit because the food is incredibly good.
You will choose what you eat from the front of the shop and they will plate it up for you and bring it to your table.
The staff range from really friendly to slightly bonkers – all adding to the atmosphere.
Plenty of Veggie stuff on the menu, so if you don't eat meat you will get a tasty meal.
Jas Jas Jas favourites: When I go to Jas Jas Jas I will mostly be eating Chicken Curry with Spicy rice – bloody lovely and tastes like proper Indian home made curry.  My other favourite is Pork Belly – yum yum.
Jas Jas Jas Tips: The spicy rice is not that spicy, just flavoursome.
Other possibilities
41 Wilmslow Road, Cheadle Village. SK8 1DR
Lulu's Kitchen is a Kosher Deli in Cheadle with fantastic Bagels and great salads.  You can eat in or take out, and all of their offerings are freshly made on the premises.  The staff (including Lulu herself) will give you a warm welcome and the deli also has chill cabinets and shelves full of other kosher products.
It's a little further away from the centre of Cheadle than the other places mentioned, but still only a five minute walk and you probably want to stretch your legs after all that sitting down anyway right?
1-3 Gatley Road, Cheadle Village Stockport, SK8 1LY
I don't get this place.  It's always rammed with people and has great reviews but both times I've been there it's been very "OK".  Nothing wrong with it, just a bit underwhelming.  Prove me wrong and if you go there and have an awesome meal please comment below.  Failing that, just go to Turquoise 200 yards down the road instead!
14 Manchester Road, Cheadle. SK8 2NP
This is a Chef and Brewer Pub and perfectly "nice'.  It's not going to blow your socks off but if you're up for a roast dinner on a Sunday then they will tick the box.  It's somewhere we like to go on a nice day as the outside space behind the pub is peaceful.
7 Wilmslow Rd, Cheadle SK8 1DW
Lebanese food in a posh restaurant setting and decidedly  – yawn …  Joanna really likes it, you won't get a bad meal.  I guess you're picking up my vibe. Hey, why am I even writing about it?
Pubs
If you are staying in Cheadle for a few days, maybe on the Clinical Training in Imago Relationship Therapy or the Getting The Love You Want Couples course, you might want to sit somewhere relaxing and have a quiet drink before that meal we were talking about. So, start with …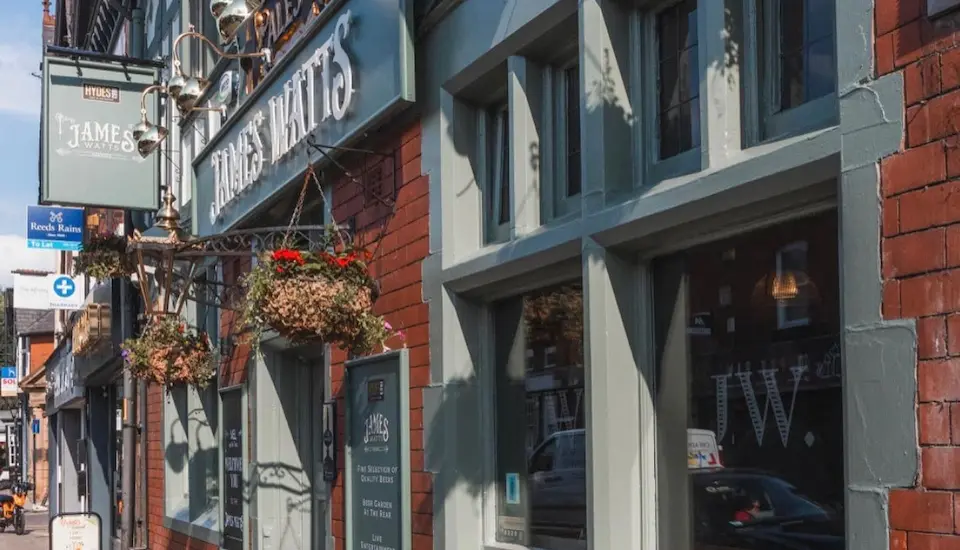 13 High Street, Cheadle, Cheshire. SK8 1AX
The James Watts is two doors down from The Affinity Centre and has a tractor beam that pulls me in if I walk past (yes, they are real).  This is therefore christened as 'my local' and is my favourite pub anywhere.  There are no tellies, no blasting music (it's pleasant background stuff) so you can just sit and talk to the people you're out with minus distractions.
I can honestly say that one of my favourite things to do in all the world is sit in the James Watt with a nice pint and have a chat with Joanna.  Bliss.
The range of beers in this pub is tremendous.  At one point I decided I was going to drink a bottle of every one of them, but as there are over 100 I lost heart and defaulted back to drinking Jaipur that they serve here, which is a cracking pint.
The staff are really friendly with not a mardarse in sight.  The Landlady, Liz, has a very cute dog, who can sometimes been seen sitting on a bar stool with the regulars, contemplating the world.
There are a few snack based food options available, but if you want to eat you could come here before visiting one of the restaurants mentioned above.
Did I mention that it has no tellies?  I love that it has no tellies.
It's the best pub in Cheadle, maybe it's the best pub in the world, discuss…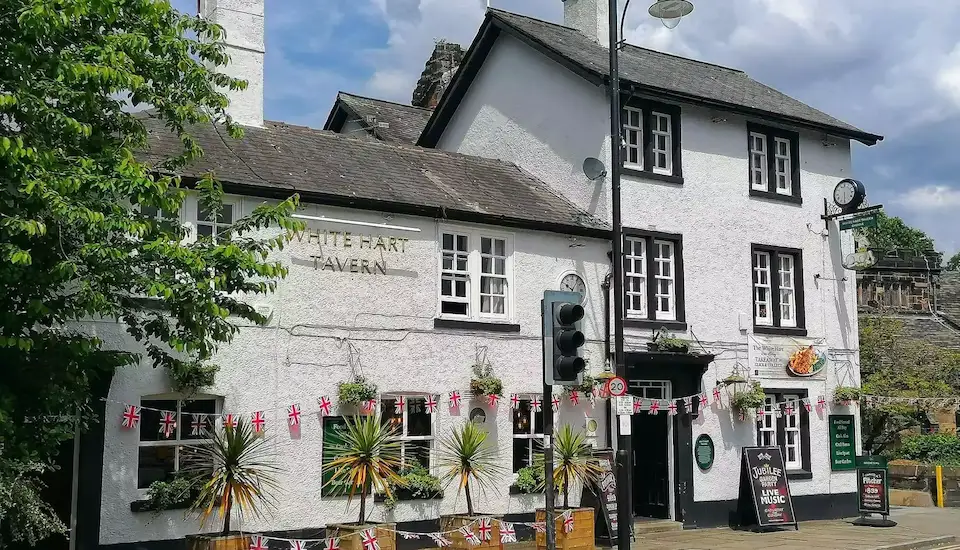 90 High Street, Cheadle, Cheshire. SK8 1PX
The White Hart has been there for about a billion years and is the pub you will see in all of the photos of old Cheadle. You know the ones?  They have men with big moustaches looking serious, and empty roads with horse shit all over the place.
It's a good pub and has a good range of beers.  They do have a bar menu and you will get a cheap and cheerful Hunters Chicken or Burger and Chips out of them if you're peckish and are too busy watching the Telly to go anywhere else.
If you are into sport then they do have TV's all over the place, it's hard not to stare at them even if watching the footie is not your thing.
This is a good place to go if The James Watts is packed!
Bon Appetite!
Well that's about the lot from me on this.  There are plenty of other places to eat that have not been mentioned too and many takeout places like Costa, Gregs, Sainsburys, etc that you can grab a sandwich or a coffee from.
Just because I've not mentioned them does not mean they are bad, more that they have not impressed me enough to imprint upon my memory.  I hope this post is helpful – happy eating!