Work With Us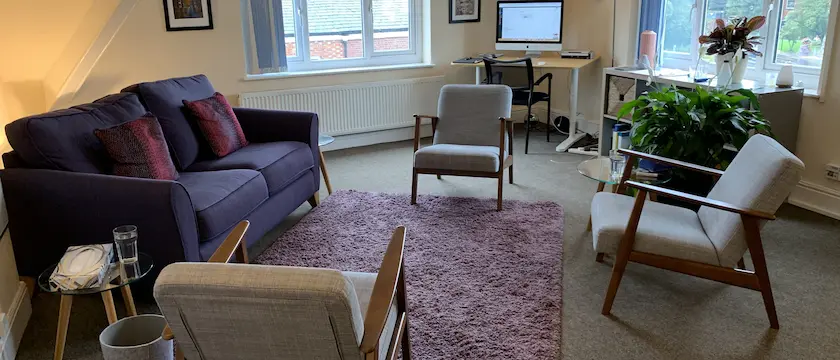 Are you a therapist or counsellor looking for a centre for your private practice?  The Affinity Centre offers lovely rooms to work in and a referral scheme to help you build your practice quickly.
Join a community of like minded therapists
Being a counsellor or therapist can be a lonely occupation. At The Affinity Centre we think a community where therapists can give each other support and friendship is important.
Great location
The Affinity Centre is well positioned in the centre of Cheadle village within easy reach of Didsbury, Cheadle Hulme, Gatley, Stockport, Bramhall and South Manchester.
Clean, warm, attractive rooms
All of the rooms at The Affinity Centre are clean, warm, well decorated and relaxing.  They are positioned in such a way that conversations in other rooms cannot be overheard, giving privacy and peace to your therapy sessions.
There is a kitchen at the Centre with a range of teas and coffee available free of charge.  Parking is easy for you and for your clients close by in Cheadle village and you can park for free at the bottom of Ashfield Road opposite Cheadle library.
Free Wifi
The Centre has free wifi for all therapists and counsellors working there.  This can be used either for surfing the internet when you are waiting for a client or for delivering online therapy sessions via Skype.  This gives you another potential income stream and increases your range of clients world wide.
Free webpage
All therapists and counsellors working at the centre are entitled to a page promoting themselves on this website.  You can write a profile and appear on the Team page free of charge.  This raises your profile and attracts potential clients.
Referral system
There is an attractive referral system that places clients contacting The Affinity Centre with a therapist that will fit them well.  This can help you build your practice if you are in need of more clients.  There is a small one off charge for each referral which is more than offset by the fees the client will pay you.
Great pricing structure
The cost of renting a room at The Affinity Centre is £100 per block during the daytime and £120 for an evening block.
Once you have booked at least one block you can then book ad hoc one hour bookings.  The charge for this is £12.50 an hour.
The block times are as follows.
Morning:  9am – 1pm
Afternoon:  1.30pm – 5.30pm
Evening:  6pm – 10pm.
Make your appointment to look at the centre now
Why not come and have a look around?  You can book an appointment by phoning Ian on 0161 282 0259.  You are under no obligation and we have no doubt that you will be impressed with what you see.  Alternatively, use the contact form to get in touch.